The Hungry Cat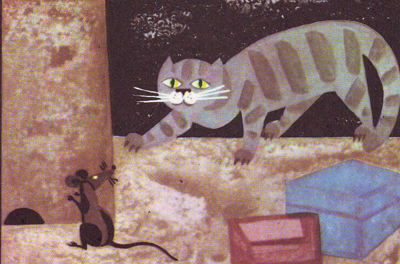 A hungry cat is looking for something to eat. She sees a little brown mouse sitting near his house.

"I want to catch that little mouse"

thinks the hungry cat. So she sits down and begins to cry

"mew, mew, mew"

. The little brown mouse jumps up to run into his house, but the cat sits still and meows again.

'She is sitting still'

thinks the mouse.

'She doesn't want to catch me. I shall not run away'

.

"Mew, mew, mew"

says the cat again.

"Why are you crying?"

asks the mouse.
Story and Image Sourced from http://www.worldstory.net/en/stories/the_hungry_cat.html